Aarhus University Hospital has opened af 3D printing centre
as 3D printing opens up new possibilities for patients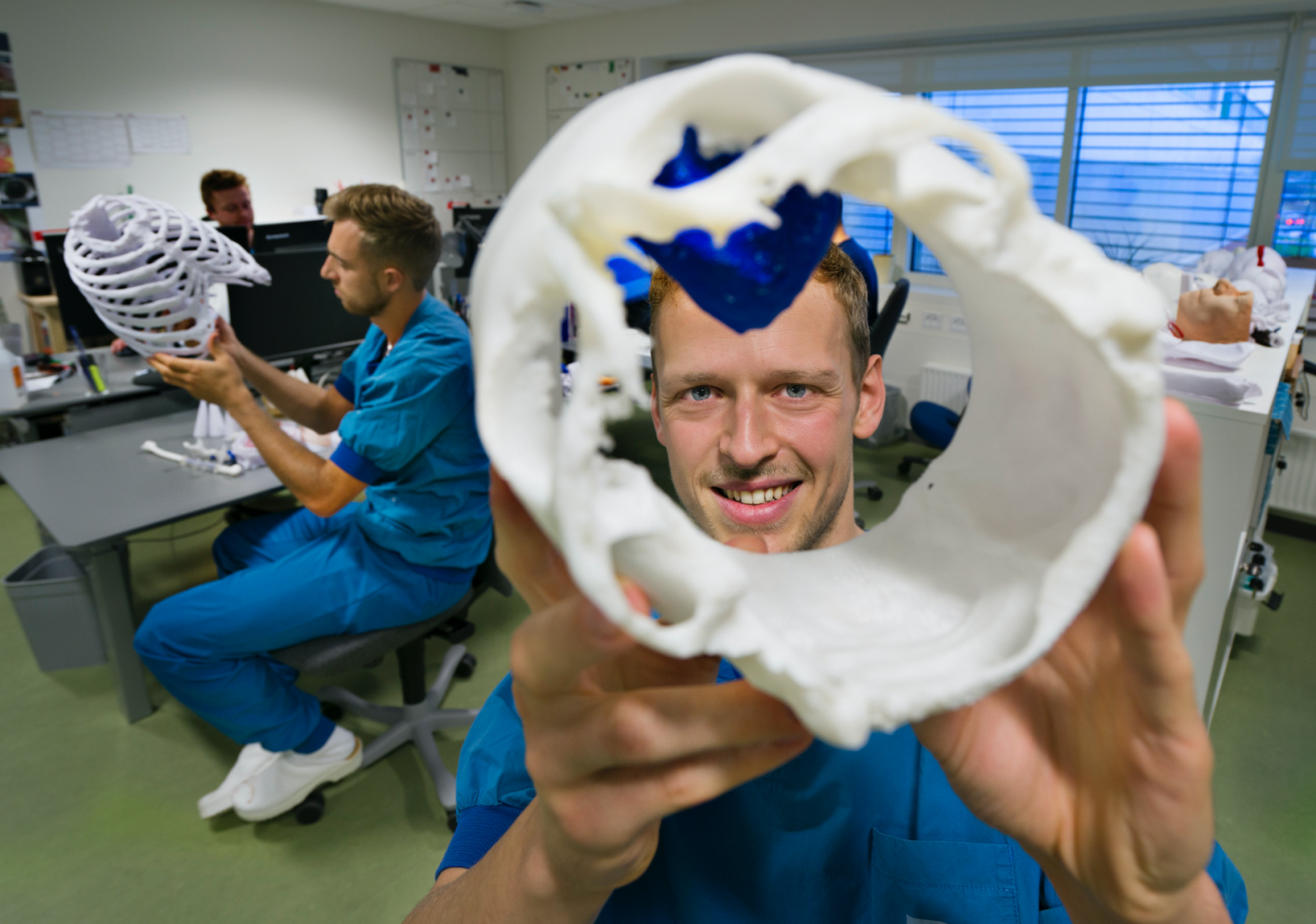 Joakim Lindhardt is head of the new 3D printing centre at Aarhus University Hospital (Photo: Niels Åge Skovbo)
Aarhus University Hospital now has a 3D printing centre to strengthen the highly specialised treatment, research and development.
In recent years, 3D printed materials have increasingly been used at hospitals to print e.g. a precise copy of a patient's hip to make it easier for the surgeon to explain the hip surgery procedure to the patient. 3D prints can also help surgeons make more precise reconstructions of jaws.
Aarhus University Hospital will now focus on the development of 3D printing and has established a 3D printing centre to strengthen the highly specialised treatments at the hospital.
- We would like to be leading in development of patient-specific 3D prints in the Nordic countries to contribute to create new knowledge and innovative methods to the benefit of our patients, says Jørgen Schøler Kristensen, Chief Medical Officer at Aarhus University Hospital.
- By establishing a centre here at the hospital, we can ensure a better quality and a higher degree of individualised patient treatment while minimising costs.
Aarhus University Hospital has for some years had the 3D printers at different locations at the hospital. Now all printers will be placed in a centre and serve the entire hospital.
3D printing has multiple purposes
For the last couple of years, Aarhus University Hospital has employed an engineer specialised in 3D printing; he will now head the 3D printing centre.
- Our surgeons can use 3D printed bones as surgical cutting guides so they will know precisely how to cut a bone in e.g. the lower leg, which will be used later in the reconstruction of the leg of a patient with cancer, says Joakim Lindhardt, head of the 3D printing centre at Aarhus University Hospital.
- Surgeons also use 3D printing technology to explain complex surgical procedures to patients. This can help patients feel safe about choosing an operation they might otherwise have declined.
Moreover, 3D printing can be used in innovation and research at the hospital because the path from idea, to prototype and end product is fast and short.