Biotech company with its roots in Aarhus raises dkk 450 million
from international foundations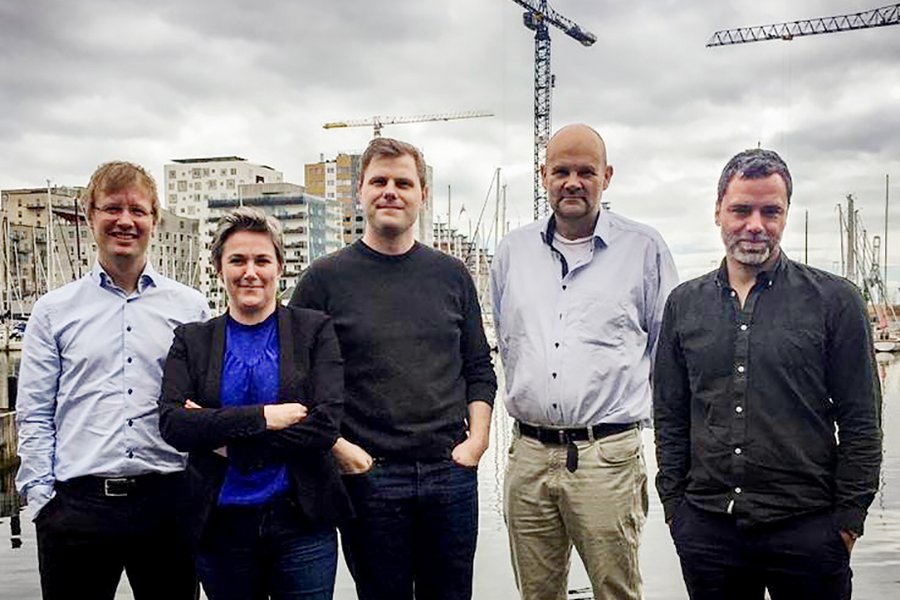 Research from Aarhus University has developed into the company Muna Therapeutics, which has just received one of Denmark's largest ever biotech investments. The company has raised almost half a billion Danish kroner from international foundations to develop drugs against dementia.
While the whole world hopes for research that can curb the development of dementia, Aarhus University has fostered an ambitious biotechnology company in this area.
The biotech company Muna Therapeutics, which is a spin-off from research at the Department of Biomedicine, has just raised EUR 60 million – or DKK 450 million – from a number of international foundations. The investment is being used to develop the company's drugs against such as Alzheimer's, Parkinson's and frontotemporal dementia.
One of the company's five founders from Aarhus University is Associate Professor Sune Skeldal. Only two-and-a-half years ago, he submitted an application for DKK 500,000 to the Novo Nordisk Foundation from the Department of Biomedicine – today the company has received almost half a billion kroner from large international foundations.
"It's fantastic to see how fast and explosive our growth has been. The new investors rubber stamp the work we've being doing at Aarhus University in recent years. There are people who really believe we can succeed with this task. And that the research we do at Aarhus University can be used in the treatment of dementia. This gives us a lot of impetus going forward," he says.
Muna Therapeutics was established in 2020 by Associate Professor Simon Glerup and his team from Aarhus University with Novo Holdings as an investor. Muna has since merged with the Belgian company K5 Therapeutics, which was founded by the Belgian professor Bart De Strooper.
Muna Therapeutics develops small molecules that can repair dysfunction in the brain's nerve cells and in this way curb different types of dementia. The Aarhus laboratory's contributes in particular with research into the protein progranulin, as a defect in this protein gives a high risk of developing frontotemporal dementia – the most common form of dementia in people under 64 years of age.
Believes that the company will hit the bulls-eye
The research team dreams of developing drugs in a market where no significant new drugs have been introduced for many years, despite the fact that laboratories around the world are working on doing so. Nevertheless, Sune Skeldal believes that Muna Therapeutics will succeed in producing the coveted pill that can impact the processes in the nervous system and thereby treat dementia.
"We've got the world's best research team in place in Aarhus, Belgium and soon also Copenhagen. We complement each other very well in various techniques. That's why I think we will hit the bulls-eye – that we'll find the protein or the pathway which we can impact with the right drug," he says.
The research at Muna Therapeutics stems from Associate Professor Simon Glerup's group at Aarhus University and from Professor Bart De Strooper's group in Leuven, Belgium.
Simon Glerup has several successful biotech companies on his CV, and in 2018, Belgian Bart De Strooper received the Lundbeck Foundation's prestigious The Brain Prize, the world's biggest brain research prize, for his highly specialised studies of Alzheimer's and other forms of dementia.
The ownership of Muna Therapeutics consists of, among others, the five founders from Aarhus University: Associate Professor Simon Glerup, Assistant Professor Camilla Gustafsen, Postdoc Joachim Vilstrup, Associate Professor Peder Madsen and Associate Professor Sune Skeldal. It also includes the company's COO Anders Hindby and several investment foundations, with Novo Holdings, Sofinnova Partners and LSP Dementia as the largest.
Muna Therapeutics has not yet established its entire internal team of researchers and makes use of contract research abroad. For this reason the company has entered into a strategic collaboration with the Italian life science company Axxam SpA, which also has an ownership share. Axxam primarily works with cell biology and is a partner research company.
Research in the company is still at a preclinical stage, but the dream is to have a molecule ready within the foreseeable future for testing that can used in the first clinical trials – i.e. for testing on humans, says Postdoc Joachim Vilstrup, who heads Muna Therapeutics' protein chemistry team.
He does not hesitate to call Muna a pioneer in the area.
"We're world champions in the biology we do. We've got an incredibly good platform that can identify new disease-relevant proteins and a skilled medical chemistry team. Muna's leadership is top professional and consists of former pharma and biotech entrepreneurs. Together, this has made it possible to go from university research at a very early stage to raising EUR 60 million with an international syndicate of world-class investors," he says.
"If I were to dream big, then we'll have medicine on the market within the foreseeable future that benefits patients with the different types of dementia. That's my dream scenario."
Important to have trust in the researchers
Department Head Thomas G. Jensen from the Department of Biomedicine at Aarhus University is very happy to see how the laboratory work has really taken off:
"It's fantastic that the university's research can be used to develop the treatment of serious diseases. Muna's development shows how important it is to have confidence in the researchers and to give them the freedom to pursue their goals," he says.
The researchers behind the company are still committed to Aarhus University, but will also devote working hours to Muna Therapeutics.
"It's impressive to see how talented researchers at the department are also good at achieving success with start-up companies. But it also says something about the research environment that it has space for these kinds of activities," says Thomas G. Jensen.
The researchers have signed a licensing agreement with Aarhus University – which roughly speaking means that the technology originates from Aarhus University and that the university will receive a percentage of the profits if the project is successful. Aarhus University is not part of the ownership.