MineAftaler
- The digital patient platform that significantly improves everyday life for patients and hospital staff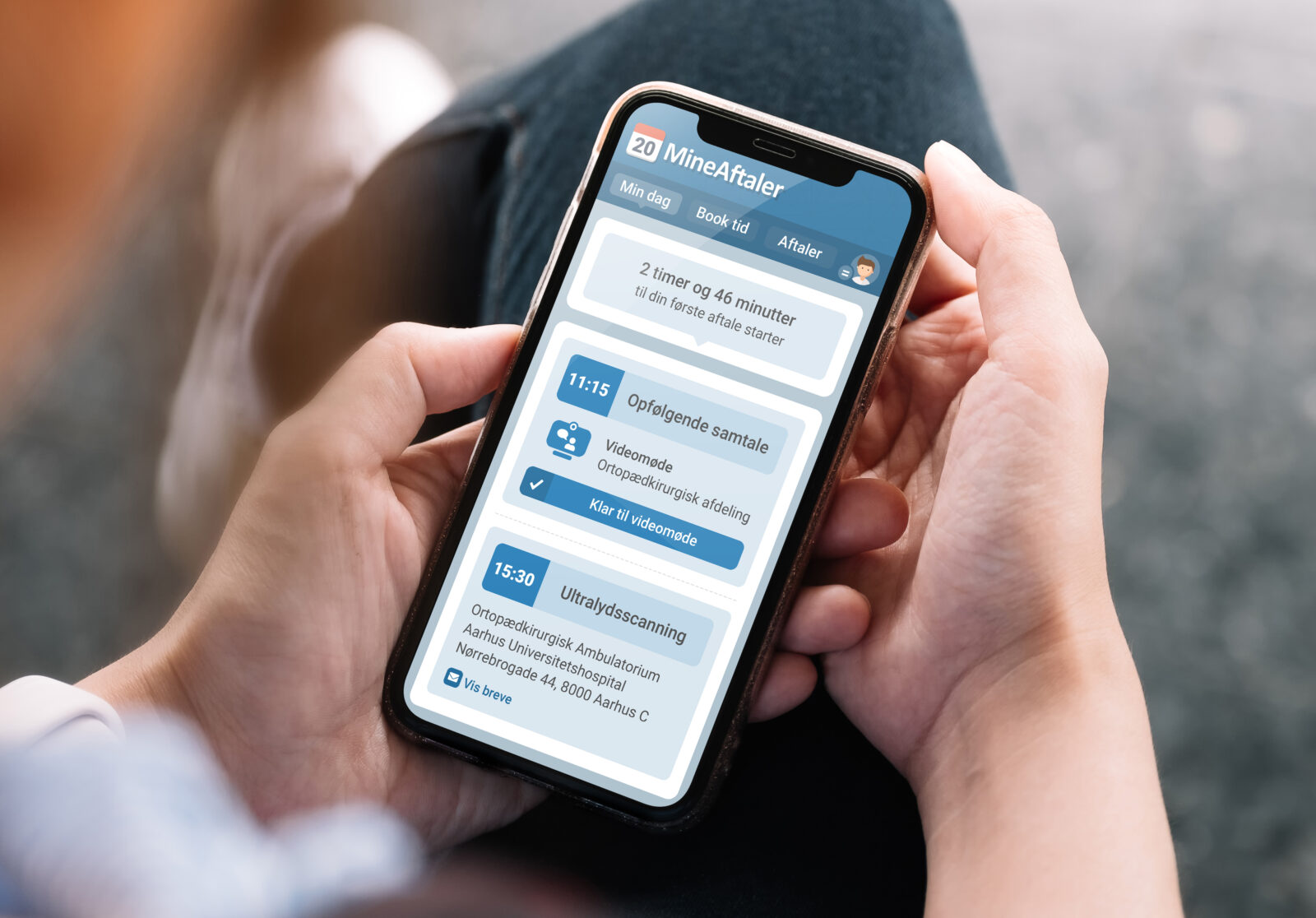 For more than 25 years, Region Midtjylland and Capgemini have cooperated closely in delivering digital solutions to all hospitals across the region. A central area in this cooperation is patient self-service, where Capgemini is the supplier of the patient app, MineAftaler.
The app assists patients in their digital encounter with hospitals and at the same time is a highly valued tool for staff.
MineAftaler provides citizens in the region with a broad range of patient self-service features such as:
• Patient appointment booking
• Secure video consultation
• Arrival check-in
• Patient calling in hospitals.
Annette Spicker, Engagement Director at Capgemini Danmark, explains how MineAftaler further improves the process for patients and staff alike: "In a close cooperation with healthcare staff in the region, we have created a digital platform which makes it much easier to be a patient. Today, MineAftaler app is a very popular solution which we constantly improve with new functions and facilities. But MineAftaler is not only making life easier for patients; we also see the app as a solution which is contributing to improve the efficiency of medical and administrative staff."
Integrated in Region Midtjylland
MineAftaler is closely integrated to the Electronic Health Record of Region Midtjylland. As a result, staff do not have to reenter information and the solution is easy to use for staff and easy to integrate into the work procedures of the staff.
Henrik Vestring, Head of IT solutions at Region Midtjylland is proud of the result of the co-development of MineAftaler: "Danish regions are increasing their investments in digitization and patient self-service. Region Midtjylland has been a frontrunner in this development. Capgemini have worked closely together with us to develop the digital patient and citizen platform, MineAftaler, which all adults in the region can use via their smartphone or computer."
Significant savings in staff time consumption
The citizens in Region Midtjylland have welcomed the new possibilities for patient self-service.
• By the end of af 2022 the citizen platform has an average of more than 225.000 visits per month.
• In March 2023 60.000 citizens booked or changed appointments using the MineAftaler app.
As a result, ressources and manpower are released to be used in other areas, where more hands are needed.
Annette Spicker adds: "With the MineAftaler-app we continue to bring new technological solutions in front of patients and hospital staff. And when patients become more self-reliant our experience shows that this results in savings in time consumption which ultimately means that medical staff can focus on other patient related activities".
Patient-focus in solutions
The positive effects related to MineAftaler, are a result of a targeted cooperation between Region Midtjylland and Capgemini. Annette Spicker sees this as a general trend in healthcare services where patients want to manage their healthcare digitally.
"We currently see a general demand for digital solutions in the hospital sector which places patients at the centre of the treatment. Patients want to engage through digital channels and modern solutions contribute to a coherent healthcare system by moving treatment from central hospitals to the home of the patient and at the same time making life easier for hospital staff", she says.