Two PhDs in Nanoscience from Aarhus University
has founded MedicQuant and developed a technology and device that can measure the concentration of anticoagulants in the blood within only 10 minutes and help secure a better treatment of stroke patients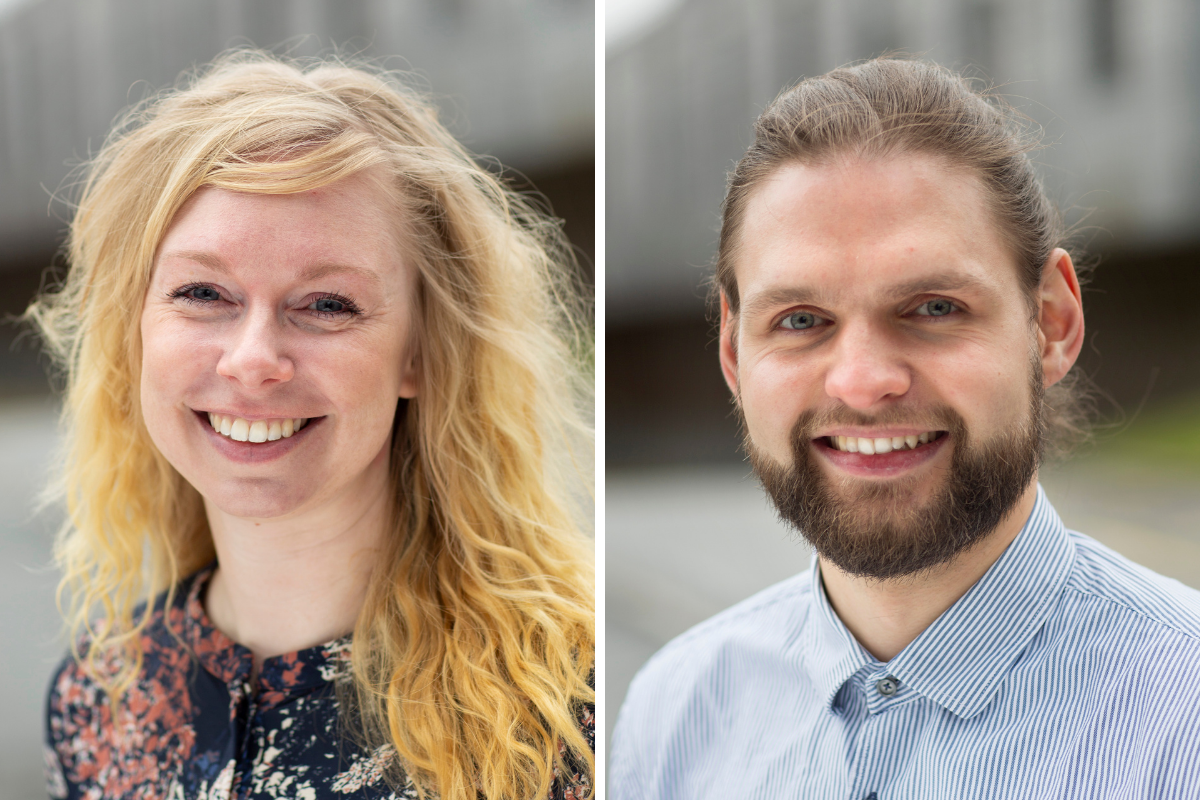 How did the idea of becoming an entrepreneur arise?
The idea of developing a technology that could measure the level of medicine in the blood arose as part of a Grand Solutions project in the Gothelf Lab at Aarhus University in collaboration with Aarhus University Hospital, Bioporto and Unisense. We were both PhD students in the project. During the project, we developed several methods, and in the end of our PhDs, we finally developed a promising technology. We both worked as postdocs for around a year after completing our PhDs, but at that point, the money from the project were running out, and we still needed to develop the technology further. The technology had the potential to make a difference for both doctors and patients in the health care sector, and it would have been a shame not to realize it. Therefore, we decided to throw ourselves into entrepreneurship.
How did you get started with your entrepreneurial journey?
As a start, we filed a patent application for our technology. We got a lot of help with that process from TTO, and in general, they have been a great help along the way. The patent application was filed in February 2019, and the process is still pending. We also needed funding and have applied for many research grants – but we have also gotten several rejections. BioInnovation Institute told us that our technology was too mature for proof-of-concept grants and what we needed was business development. We managed to get a grant worth 250,000 DKK for business development and establishing the company, which started our transition from researchers to entrepreneurs. In the process, we have really had to change our mindset from an academic to an entrepreneurial one.
What has been the biggest challenge in the process?
The biggest challenge has been to identify the unmet need that our technology can solve. The technology is able to rapidly measure the blood level of all types of medicine, but where does this create value? Hospitals already have technologies to measure levels of medicine in the blood, so we have had to identify in which cases it will make a difference to get the results fast. There are so many experts and opinions, and there are many stakeholders involved in the process – not just doctors and patients, but also insurance companies, procurement, investors etc. For instance, we have had to consider the unmet need in relation to its market size as investors want to be able to see a big return of investment. This has been a hard balance.
But we have identified our beachhead market and are confident in this unmet need of rapidly measuring anticoagulants to guide the life-saving management of stroke patients. Our instrument can help secure a faster and more accurate treatment of this patient group and save lives.
What does a typical workweek look like for you in relation to combining your company with your research?
There are always a lot of meetings with our co-founders and investors, potential manufacturers, doctors, TTO etc. Besides that, we spend much of our time writing applications for grants and soft funding opportunities – this take up around 25% of our time. Since the beginning, we have applied for a grant every other month on average. We have an office in The Kitchen and also spend some time in the lab, which we rent at the university. We are still doing quite a lot of research and development to mature and improve the technology, and we spend approximately 20% of our time in the lab.
How do you use your academic competences from au as entrepreneurs?
We use the collaborative competences we have acquired during our PhDs a lot. We also use our ability to familiarize ourselves quickly with new fields, which is also one of the things we have learned as researchers at the university. This has been especially helpful when we had to get acquainted with business development.
The more you know, the more you find out that you don't know, and we try to be honest about our competences and the competencies we lack. You shouldn't think that you can do everything yourself. It is a strength to be able to acknowledge your limitations. In the beginning, we would only say things that we could vouch for with 100% certainty, and it has been a challenge to go from the accuracy we were used to as researchers to make business estimates. We have participated in many accelerator programs to acquire the competences we lacked. In addition, we have brought in co-founders with business competences, and we also draw on network for competences that we lack ourselves. Medtech is a small field in Denmark, where you know people and help each other – this network has been of huge value to us.
Where is the company today, and what are your dreams of for the future?
We received an Innofounder Experienced in the beginning of 2021, which provides us with a full time salary for a year until February 2022. It is really nice to have that security at the moment.
Right now, we are in the process of developing our product. We are doing a validation study on patient samples that we can use to show investors that the technology is de-risked. After that, we are going to do a clinical study. We expect to be ready for launch and market adoption in approximately 4 years – there are so many factors in play that needs to come together, so it is a long process. When we are ready to launch, our first step is the US market.
Your best advice for researchers who are considering becoming entrepreneurs?
You have to be ready to let go of your research. Research is a very small part of what we are doing as entrepreneurs. In the business world, it is not necessarily about getting the best result, but about getting a result that can be sold. You don't have to compromise your academic standards, but you cannot necessarily follow all the exciting discoveries you make.
Get out of the building and talk to people – in the end, it all comes down to whether people are willing to buy and use your product.
Built a team of people with different competences. We found a number of co-founders that complement our more technical background, which gives much more diversity to the team. Apply for acceleration programs – you will get a lot of knowledge and network. We can personally recommend EIT Health's Medtech Bootcamp and BioInnovation Institute – just find one within your own field that fits with where you are in your product development.